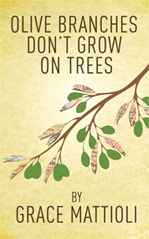 Olive Branches Don't Grow On Trees
Published 2012
23-year-old Silvia Greco is broke and living with her father in New Jersey when her mother asks her for help in gathering her family together for a celebration commemorating her brother's high school graduation. Uniting her feuding family who haven't been together in over six years and whose parents are newly separated will be a great challenge, but she can't refuse her mother, with whom she sympathizes. She knows the core of all their fighting is her father's alcoholism, so she attempts to sober him up while appealing to the sensibilities of her other family members. Her challenge takes on greater significance when she realizes that her own peace and happiness is linked to the state of disharmony in her family and that she must save them all from devolving into families like those of her parents—loveless with siblings who are estranged from each other. But the task of uniting her family may prove to be too huge for her. Can she do it? Buy this book and find out while immersing in a wonderful world of unforgettable characters, great humor and delicious food! Best of List, Suspense Magazine. Get your FREE copy at Amazon or all other major online booksellers today!
Best of 2012, Suspense Magazine 
"The author…manages to make us care about this family. All of the Grecos…are entertaining and their quirks are endearing. OLIVE BRANCHES DON'T GROW ON TREES is a very real drama that gets to the heart of the conflict within the Greco family." Indie Reader Reviews (5 Stars)
"The author weaves a tale that is a moving and realistic portrayal of a dysfunctional family with enough drama and humorous family situations that will keep the reader engaged and entertained, while providing a witty sense of humor and subtle messages of life lessons to extend the olive branch and learn to live, love and forgive." Jersey Girl Book Reviews
"The sequences of Silvia's recollections into the past with her strong willed, born ahead of her time grandmother, the jobs she has held, and lost as it were, are nothing short of brilliant." Chapters and Chats Book Reviews
Available in eBook, paperback, and audiobook
Buy now:
---

Discovery of an Eagle
Published 2014
28-year-old Cosmo Greco is perfectly content with his humdrum existence in Philadelphia until he realizes he has been joylessly sleepwalking through his life. This sequel to Olive Branches Don't Grow On Trees begins when Cosmo gets laid off from his job, after which, he takes up his sister on her offer to drive with her to Portland. A near fatal car accident in the beginning of the trip wakes him up to the fragility of life and characters he meets along the way further open his eyes. But his pragmatic nature and his fears come into play and he's conflicted about whether to go back to his old way of life or to go forward in his journey of self-discovery. His inner conflict grows when he learns that the lay-off is ending and he's been invited to interview for a promotional job. What will he do? Buy this book and find out while going on a magical, spirited road trip filled with colorful characters and vividly painted landscape.
"The characters the two siblings meet along the way-whether delightfully crazy or attractive or lost-serve as foils for a kind of personal growth particular to a road-trip scenario, and the landscape of the vast space between the East and West coasts acts as a catalyst for emotional and spiritual change. Author Mattioli (Olive Branches Don't Grow on Trees, 2012) writes in an assured voice that carries the story through its potentially sentimental passages, and…by the end, (readers) may be surprised find that they, too, have undergone an emotional odyssey…poignant and well-drawn." Kirkus Reviews
"A warm blend of travel and observation, family interrelationships, and reflections that ultimately captures the meaning and purpose of getting away and journeying to new places…a soaring story of one man's exploration of new possibilities, new worlds, and ultimately, a newfound purpose to life." Midwest Book Review
"The book isn't just about Cosmo's journey. It takes a hard look at the lives we live, the monotony we assume is a part of adulthood and the mediocrity we're content to settle for. Through Cosmo's shoes, the reader's perspectives are quietly opened to new possibilities." The Lit Room Reviews
Available in eBook, paperback, and audiobook
Buy now:
---

The Bird that Sang in Colo‪r‬
Published 2021
Donna Greco subscribes to a conventional view of success in life, and she pushes her freewheeling, artistic brother, Vincent to do the same. However, he refuses to conform, and she harbors guilt for her supposed failure to ensure his happiness until she discovers a book of sketches he made of his life, which allows her to see his internal joy and to discover the secret to living free!   
While this textured story combines serious issues such as alcoholism, death, and family conflict, it's balanced with wit and humor and is filled with endearing, unforgettable characters. The story spans decades, beginning in 1970 and ending in the present. Readers will be immersed in this tale which poses an intriguing question: "What pictures will you have of yourself by the end of your life?"
"a refreshing family portrait about interpersonal evolution…presented with affection, humor, and insight…an inspiring slice of life blend of philosophy, psychology, and transformation that draws readers into a warm story and examines the wellsprings of creative force and legacies." Midwest Book Review
"highly polished artistic prose…evolves fluidly; with great heart and humour…A consummate exponent in the art of storytelling and skilled in the imagery of words…Without exception, the characters are all emotionally complex…lyrical and lovingly written…profound and thought provoking," Fiction Books Biz Book Reviews
"a heartfelt family story told with grace and humor," Rose City Reader
"The periods and places are so well realised, with the kind of simple, yet revealing, strokes Donna admires in her brother's drawings. This is writing of the highest quality…it is a book that makes you think, to question your assumptions. And that is something that the best literature sets out to do," Rosie Amber Book Reviews
Buy Now:
____________________________________________________________________

The Brightness Index
Published 2016
A collection of stories that acknowledge the magic in ordinary people, each with wonderful humor, quirky characters, and an element of O Henry. Meet Stacy, a down-and-out waitress who is about to be fired until she goes on an unlikely quest and becomes the restaurant's hero. An English woman moves to Tucson so she can see the sunsets that she associates with her mother who died when she was a child, and although she treasures the beauty of her new place, she struggles with being a misfit here. Crazy Ted is a cowboy who comes from Pennsylvania and falls in love with a beautiful Navajo woman who barely notices him. Tattoo Tommy is a born-again-Christian tattoo artists who searches his mind for the perfect tattoo that will complete him. A college student can't get out of her lease in the haunted house she lives in until a mysterious pizza delivery guy saves the day.
"…Grace Mattioli gives her short stories little twists to make seemingly-predictable plots turn into exceptional reads through a character's gritty determination to rise above their circumstances…All these stories offer food for thought, and all are bound together by positive human contact. Set against an Arizona backdrop, they're gems of interpersonal relationships that illustrate how "stuck" people become unstuck and change." Midwest Book Review
Available in eBook and paperback
Buy now: