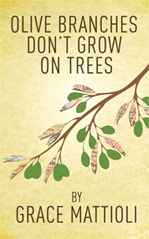 Olive Branches Don't Grow On Trees
2012
Drawing on her own background, Grace Mattioli has created a warring but loveable Italian-American family, who just can't seem to get along. While they all have their individual problems, youngest daughter, Silvia Greco, hopes that she can bring the family together to celebrate the graduation of her little brother, and in so doing offer an olive branch of peace to the disgruntled factions. What follows is an energetic, funny, and endearing tale of a twentysomething woman with an incurable need to keep moving, but without any real sense of direction. As she finds her own way, so too she hopes to help her family put their problems aside. Get your FREE copy at Amazon or any other major online booksellers today!
Best of 2012, Suspense Magazine 
"The author…manages to make us care about this family. All of the Grecos…are entertaining and their quirks are endearing. OLIVE BRANCHES DON'T GROW ON TREES is a very real drama that gets to the heart of the conflict within the Greco family." Indie Reader Reviews (5 Stars)
"The author weaves a tale that is a moving and realistic portrayal of a dysfunctional family with enough drama and humorous family situations that will keep the reader engaged and entertained, while providing a witty sense of humor and subtle messages of life lessons to extend the olive branch and learn to live, love and forgive." Jersey Girl Book Reviews
"The sequences of Silvia's recollections into the past with her strong willed, born ahead of her time grandmother, the jobs she has held, and lost as it were, are nothing short of brilliant." Chapters and Chats Book Reviews
Buy now:

---

Discovery of an Eagle
2014
When Cosmo Greco and his sister, Silvia Greco drive to Portland together, a soulful American road trip is set in motion. When a near-fatal car crash threatens to do more than derail the trip, the story takes a thoughtful turn, forcing Cosmo to re-evaluate his life. Characters he meets along the way act as a guide in his spiritual awakening. With wit and insight, Mattioli approaches such issues fear of change and what it takes to be truly happy. The humorous literary fiction story is the second book in the Greco Family Trilogy. Whereas the other two books in the family trilogy books are set in New Jersey, this one journeys throughout the United States, exploring regions from the Southeast to the Pacific Northwest.
"The characters the two siblings meet along the way-whether delightfully crazy or attractive or lost-serve as foils for a kind of personal growth particular to a road-trip scenario. The landscape of the vast space between the East and West coasts acts as a catalyst for emotional and spiritual change. Author Mattioli writes in an assured voice that carries the story through its potentially sentimental passages. By the end, (readers) may be surprised find that they, too, have undergone an emotional odyssey. Poignant and well-drawn." Kirkus Reviews
"A warm blend of travel and observation, family interrelationships, and reflections that ultimately captures the meaning and purpose of getting away and journeying to new places. A soaring story of one man's exploration of new possibilities, new worlds, and ultimately, a newfound purpose to life." Midwest Book Review
"The book isn't just about Cosmo's journey. It takes a hard look at the lives we live, the monotony we assume is a part of adulthood and the mediocrity we're content to settle for. Through Cosmo's shoes, the reader's perspectives are quietly opened to new possibilities." The Lit Room Reviews
Buy now:

---

The Bird that Sang in Colo‪r‬
2021
In her teens, Donna decides that happiness necessitates marriage, children, and wealth. Throughout her life, she pushes her freewheeling, artistic brother, Vincent to adopt her conventional view. But he refuses to conform and as the years pass, she begins to realize that he may have had the right idea about how to live all along. Join the Greco family matriarch in this moving saga as she discovers how to live a happy and authentic life. Heartfelt and humorous, this story asks readers an intriguing question: "What pictures will you have of yourself by the end of your life?"
"a moving story of two Italian American siblings across several decades…graceful prose…poignant character driven story," Publisher's Weekly
"a refreshing family portrait about interpersonal evolution…presented with affection, humor, and insight…an inspiring slice of life blend of philosophy, psychology, and transformation that draws readers into a warm story and examines the wellsprings of creative force and legacies." Midwest Book Review
"highly polished artistic prose…evolves fluidly; with great heart and humour. A consummate exponent in the art of storytelling and skilled in the imagery of words. Without exception, the characters are all emotionally complex…lyrical and lovingly written…profound and thought provoking," Fiction Books Biz Book Reviews
"a heartfelt family story told with grace and humor," Rose City Reader
"The periods and places are so well realised. This is writing of the highest quality. It is a book that makes you think, to question your assumptions. And that is something that the best literature sets out to do," Rosie Amber Book Reviews
Buy Now: