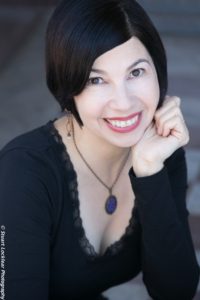 Grace Mattioli is the author of two novels–Olive Branches Don't Grow On Trees and Discovery of an Eagle, and a book of short stories, The Brightness Index. Her forthcoming novel, The Bird that Sang in Color, will be released January 17, 2021.
Her fiction is filled with unforgettable characters, artful prose, humor, and insight about what it takes to be truly happy.  She strongly believes that if people were happier, the world would be a better place.
She lives in Portland, Oregon with her husband and her cats. She worked as a librarian for over twenty years and has had various other job titles, including jewelry designer, food cart owner, shopkeeper, book seller, substitute teacher, art school model, natural grocery store clerk, short order cook, food server, street vendor, barista, and a giant Twinkie! 
She has been writing creatively since she was a child and has participated in various writing workshops and classes. Her favorite book is Alice in Wonderland. Her favorite author is Flannery O'Connor. Her favorite line of literature comes from James Joyce's novella, The Dead:  "Better pass boldly into that other world, in the full glory of some passion, than fade and wither dismally with age."