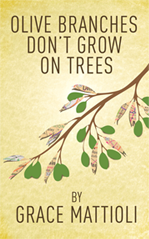 OLIVE BRANCHES DON'T GROW ON TREES (2012)
Short Description
Drawing on her own background, Grace Mattioli has created a warring but loveable Italian-American family, who just can't seem to get along. While they all have their individual problems, youngest daughter, Silvia Greco, hopes that she can bring the family together to celebrate the graduation of her little brother, and in so doing offer an olive branch of peace to the disgruntled factions. What follows is an energetic, funny, and endearing tale of a twentysomething woman with an incurable need to keep moving, but without any real sense of direction. As she finds her own way, so too she hopes to help her family put their problems aside.
Long Description
After working several dead-end jobs since graduating art school and moving around the country, Silvia finds herself broke and living back at home in New Jersey living with her crazy father, Frank. She contemplates what went wrong for a short while when she's drafted into helping her mother, Donna, unite her feuding family together for her younger brother's high school graduation party. Silvia and her three siblings have not been gathered together in over six years and her parents, Frank and Donna, are newly separated. Well-aware of the enormity of the challenge at hand given the many inter-family conflicts and stubbornness of her family, she takes it on with enthusiasm as it serves as a diversion from her current life situation.
She goes about appealing to each family member by individualizing each one's needs and wants and by sometimes telling white lies. For instance, she tells her older sister Angie, who is preoccupied with appearances, that her absence at the party will look really bad. In her journey to gather her family together, she learns that peace is not something that is readily existing but something that needs to be cultivated. In other words, she learns that olive branches don't grow on trees. She also comes to realize that uniting them together is not just about ensuring that her brother has a nice way to commemorate his graduation. It is about preventing her family from devolving into families like her parents' in which siblings are estranged from each other. At the heart of her journey, lies her father's alcoholism and she goes about trying t0 sober him up.
While trying to make peace in her family, she goes about her day to day life, nude modeling in the art school she attended in Philadelphia, getting a job as a manager in a candy store in a nearby mall, wondering what sort of career path she will take and where she will move next. When she realizes that her own restlessness and tendency to move from place to place is directly correlated with the lack of peace in her own family, creating peace in her family takes on a whole new dimension and importance.
Despite the seriousness of the issues dealt with in this novel, humor abounds. Her younger brother Vince believes the recent preponderance of war novels to be a government conspiracy. Donna is sexually assaulted at Disney World by the Three Little Pigs. Frank chases a centipede around the house with a broom, proclaiming "these God damned bugs run around here like they own the place!"
Review Excerpts
"The author weaves a moving and realistic portrayal of a dysfunctional family with enough drama and humorous family situations that will keep the reader engaged and entertained, while providing…subtle messages of life lessons to extend the olive branch and learn to live, love and forgive." Jersey Girl Book Reviews
"The sequences of Silvia's recollections into the past with her strong willed, born ahead of her time grandmother, the jobs she has held, and lost as it were, are nothing short of brilliant." Chapters and Chats Book Reviews
"Grace's intimate knowledge of her subject shows in her frank and open style of writing, which invites the reader into the lives of the Greco family, as though they were long lost friends and therefore there is no need to stand on ceremony, or pretend that things are not just as they are. An amazingly perceptive, cleanly written and well told story, marks Grace Mattioli's debut novel." Fiction-books.biz Book Reviews
"The author…manages to make us care about this family. All of the Grecos…are entertaining and their quirks are endearing. OLIVE BRANCHES DON'T GROW ON TREES is a very real drama that gets to the heart of the conflict within the Greco family." Indie Reader Reviews
Best of 2012, Suspense Magazine!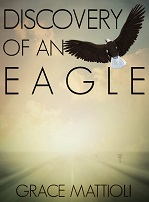 DISCOVERY OF AN EAGLE (2014)
Short Description
Following on from the hugely popular, Olive Branches Don't Grow on Trees, Grace Mattioli re-visits the loveable if difficult Italian American Greco family. When Cosmo and Silvia Greco decide to drive to Portland together, a soulful American road trip is set in motion, but when a near-fatal car crash threatens to do more than derail the trip, the story takes a thoughtful turn, forcing Cosmo to re-evaluate his life. With wit and insight, Mattioli approaches such issues fear of change and what it takes to be truly happy.
Long Description
When 28-year-old Cosmo Greco gets laid off from his IT job in Philadelphia, the first thought that pops into his head is how he'll spend the rest of the day divided between the comic book shop and the cafe. He leaves his former place of work feeling renewed, goes home to clean his house and is served a notice from his landlord about an upcoming rent increase. Fears about his financial situation ensue but he doesn't have long to fret when his younger sister Silvia persuades him to travel out to Portland, Oregon with him. He accepts reluctantly thinking that the trip will give him a renewed sense of appreciation for his life as it is. But when they are in a near fatal car accident in the beginning of the trip, he realizes the true unpredictability of life and that death is imminent.
This wake-up call causes him to question his life and to realize that he's been in a rut and is bored and unfulfilled. He wants to start living life more fully. A number of encounters he has along the way reinforce this realization. He meets a blues musician who's filled with passion for his art, a quirky cowboy who speaks in poetic verse for his lost love, a dying woman who, having lived a good life, is at peace with going on to the next world and Hopi artisans, who although monetarily poor, seem content. When he and Silvia stay in a youth hostel in Flagstaff, he remembers his brief college days when he studied astronomy which was his passion. He sorely regrets dropping out and losing his passion in life.
Midway through the trip, they visit the Grand Canyon and he sees a bald eagle flying through the sky and Silvia tells him how she loves eagles because of what they symbolize–strength, courage, immortality, divinity, spirit. He realizes that he's discovered, on this trip, the eagle that resides within him and knows that he can't turn back. But shortly afterwards, he hears from a former colleague who tells him the lay-off is over and that he's in line for a promotion. Although he doesn't want to go back to his former life, he knows that not doing so would be foolish and unpractical.
Silvia and Cosmo are both products of growing up in an alcoholic household although they juxtapose each other very nicely with the the former being a restless spirit who can't stay still and stick something out and the latter being an underachiever who settles and can't get moving. While she pushes him to get going and live more fully, he teaches her to stop moving and be more present. Together, they make it to the other side of the country, while learning powerful messages along the way which allows Cosmo to undergo a spiritual transformation.
Review Excerpts
"A warm blend of travel and observation, family interrelationships, and reflections that ultimately capture the meaning and purpose of getting away and journeying to new places…a soaring story of one man's exploration of new possibilities, new worlds, and ultimately, a newfound purpose to life." D. Donovan, Midwest Book Review
"The characters the two siblings meet along the way-whether delightfully crazy or attractive or lost-serve as foils for a kind of personal growth particular to a road-trip scenario, and the landscape of the vast space between the East and West coasts acts as a catalyst for emotional and spiritual change. Mattioli writes in an assured voice that carries the story through its potentially sentimental passages, and…by the end, (readers) may be surprised to find that they, too, have undergone an emotional odyssey…poignant and well-drawn." Kirkus Reviews
"As you feel yourself traveling with these Grecos, you see Cosmo's world open and expand with each cathartic, soothing and beautiful scene or person he discovers…If you are longing for change, feel stuck in your lifestyle and want to discover America come with Silvia and Cosmo to find the beauty that lies past your present world." Ruth Amernick, reviewer for Library Journal
"The book isn't just about Cosmo's journey. It takes a hard look at the lives we live, the monotony we assume is a part of adulthood and the mediocrity we're content to settle for. Through Cosmo's shoes, the reader's perspectives are quietly opened to new possibilities." The Lit Room Literature and Film Reviews
THE BRIGHTNESS INDEX (2016)
This small collection of short stories all take place in Arizona and the characters who inhabit the stories are as unique and colorful as the place itself.  There is Stacy in Just Bring Your Own Food, a reluctant diner waitress who'll do anything to keep her job, including chase down a thief. How Doc Holiday Saved Me is the story of a college girl living in a haunted house in Tucson who meets a mysterious pizza delivery guy who helps her get out of her lease. In Crazy Ted: a love story, a blond blue eyed man moves from Pennsylvania to Flagstaff and lets his inner cowboy out and falls in love with a beautiful Navajo woman. Something he could see himself In is the story of a born-again Christian tattoo artist and his quest to find the perfect tattoo for the one remaining empty spot on his back. In So She Could See the Color Plue, a misfit wants desperately to fit in in the only place on earth where she can see the most magical colors in the sky. 
"…Grace Mattioli gives her short stories little twists to make seemingly-predictable plots turn into exceptional reads through a character's gritty determination to rise above their circumstances…All these stories offer food for thought, and all are bound together by positive human contact. Set against an Arizona backdrop, they're gems of interpersonal relationships that illustrate how "stuck" people become unstuck and change." Midwest Book Review
A VERY WEALTHY POOR MAN (forthcoming)
Short Description
The third book featuring the Greco family told through Donna's point of view. The story begins when she's in eighth grade in 1970 and ends in present day when she's in her sixties. Throughout her life she diligently pursues those things that she believes makes for a happy life–marrying, a family, a dignified career–and she encourages her older brother, Vincent to do the same. Eventually she discovers that these things don't bring real happiness and she discovers the true secret of wealth.
Long Description
The third book featuring the Greco family is a prequel to Olive Branches Don't Grow on Trees and Discovery of an Eagle and like these other books, can also be read as a stand-alone. This story is told Donna's point of view, and begins when she is in eighth grade, sitting in her brother Vincent's room, admiring paintings he'd made that cover his walls and listening to the newest Beatles album, Let It Be. He's a senior in high school and wants very badly to go to art school but his parents don't want him to go. Donna encourages her mother to try to convince their father to let him go and she agrees although her efforts are unsuccessful. Donna is soon convinced that art school isn't a good thing for Vincent when her mother tells her that so many artists can't provide for themselves.
From this point on, she makes it her mission to look out for her older brother. She decides that his happiness, like her own, is contingent upon having a spouse, children, nice house and dignified career. As she goes about acquiring all of these things in her own life, Vincent remains single, childless and only enough money to live in tiny apartments or boarding rooms, working at several jobs that she believes are beneath him, such as a baker and a security guard. She continues to push him in the direction she feels is right for him and her drive to guard and guide him is fueled by her love and devotion for him as well as her deep sympathy for him, for she is sure that he can't possibly be happy. In the meantime, Donna's marriage, that started off great, slowly crumbles as her spouse, Frank, drinks more and more and refuses to seek help. As her marriage changes, so too does her relationship to her brother, her visits to his home becomes a sort of refuge from her problemed marriage.
Vincent is no longer alive and after his death, she discovered a sketchbook in which he drew pictures of himself in various stages. Colorful and varied, these drawings reveal that that although he was monetarily poor, he had infinite wealth inside through his creative pursuits and his way of living in the world. He was a true Renaissance man who never conformed to society and was therefore, not enslaved by society's preconceived notions of how to live. Through her awareness of how Vincent lived his life, she discovers the true secret and meaning of wealth and realizes that there is more than one way to live life. She wonders what pictures she will have of herself in the end of her own life. These realizations give her a new appreciation of life and a deeper understanding of how to live it, giving her insight and wisdom that she shares with her children.
Each chapter takes place in a different year and each are a few years apart. Time is indicated by popular culture references as well as references to major life events for the characters. Throughout the book, events unfold in Donna's life–going to college, marrying Frank, having her children and so on.  The final chapter takes place in present day with Donna celebrating her third grandson's birthday party.  She's divorced from Frank, living alone in a tiny studio apartment in Philadelphia and happier than she's ever been in her life. In the final scene, she's sharing the sketchbook with her children, encouraging them to consider the pictures they'll have of themselves in the end of their lives
Although this book can be read as a stand-alone, people who have read the previous two Greco family novels will really appreciate gaining a deeper and richer understanding of Donna, seeing how she met and fell in love with Frank and what gave her the strength to leave him. Readers will discover how her children became the adults that inhabit the first two Greco family novels and will experience many of the same scenes from the past two novels through Donna's point of view.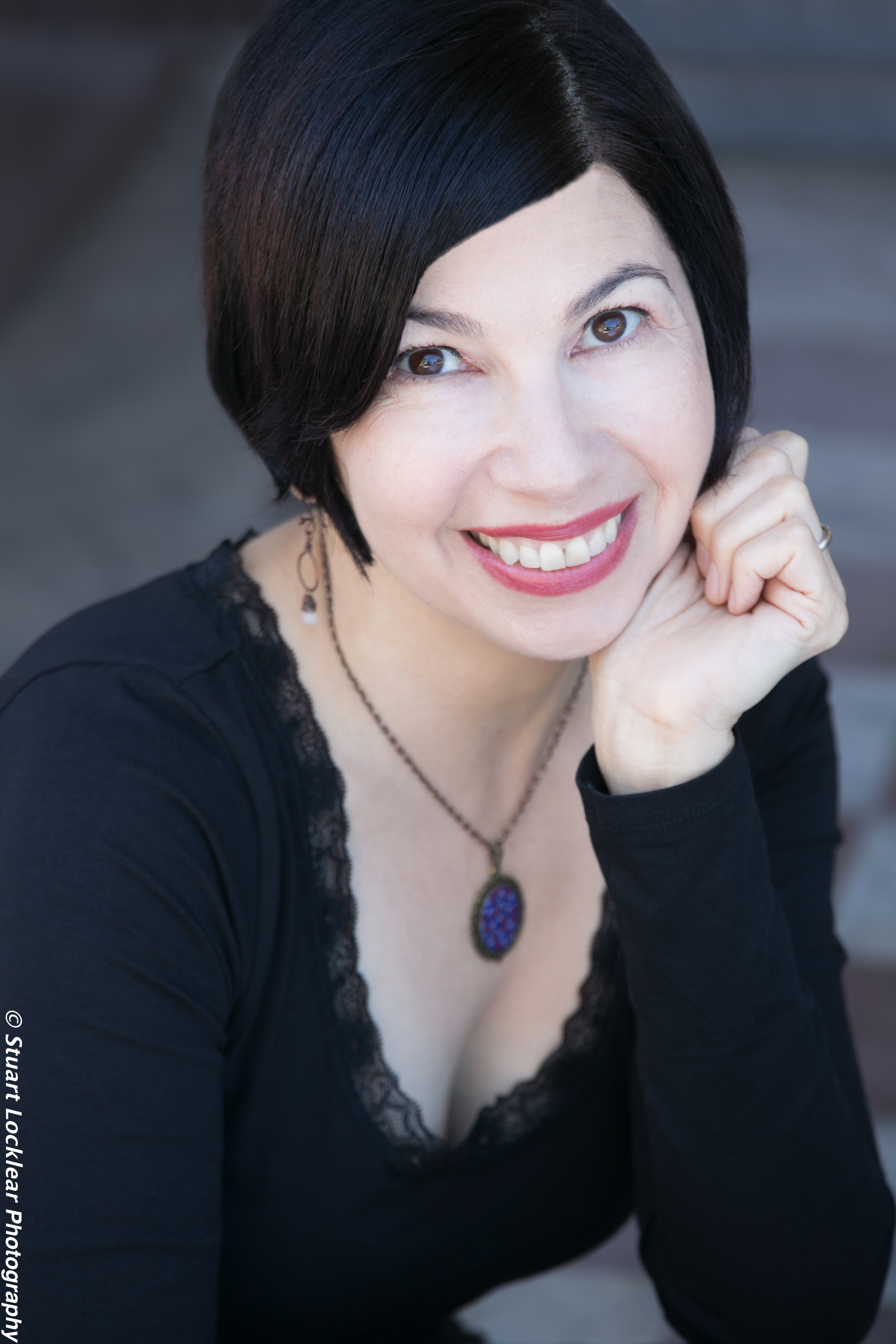 ABOUT THE AUTHOR
Short Biography
Grace Mattioli is the author of two novels–Olive Branches Don't Grow On Trees (2012) and Discovery of an Eagle (2014), which both feature a quirky, dysfunctional, yet highly lovable family named the Grecos.  She is currently working on a novel, entitled A Very Wealthy Poor Man, which features the same family. She also published a small collection of short stories entitled The Brightness Index (2016). 
Long Biography
Grace Mattioli is the author of two novels–Olive Branches Don't Grow On Trees (2012) and Discovery of an Eagle (2014), which both feature a quirky, dysfunctional, yet highly lovable family named the Grecos.  She is currently working on a novel, entitled A Very Wealthy Poor Man, which features the same family. She also published a small collection of short stories entitled The Brightness Index (2016). 
Her fiction is highly visual and filled with unique, highly dimensional characters. While her stories deal with such serious issues as dysfunctional families and addiction, they're very humorous. Finding happiness and inner peace are major themes that run throughout all of her work and readers can discover valuable insights that they can apply to their own lives.
She lives in Portland, Oregon with her husband and three cats. She worked as a professional librarian for over twenty years and is currently a food cart owner. She has been writing creatively since she was a child. She studied English literature in college and has participated in several writing workshops and classes.
Grace's favorite book is Alice in Wonderland. Her favorite author is Flannery O'Connor. Her favorite line of literature comes from James Joyce's novella The Dead:  "Better pass boldly into that other world, in the full glory of some passion, than fade and wither dismally with age."
Interview Questions
What led you to writing your debut novel, Olive Branches Don't Grow On Trees?
Why did you decide to feature the same family of your debut novel, (The Grecos) in Discovery of an Eagle and A Very Wealthy Poor Man?
Why did you decide to make your second novel a road story?
Are your novels autobiographical in any ways?
Are there recurrent themes that run throughout your novels?
Who are you writing for, or who do you consider to be your target audience?